MARTINSBURG, Dec. 4 - Spring 2014 registration opens for new youth players on December 1, 2013. Registration can be completed in person, mail or online via Martinsburg-Berkeley County Parks and Rec. Roster space may be limited so please register soon.
A Lacrosse 101 meeting will be conducted for all prospective players on Thursday, December 5th from 6:30-7:30PM at the Berkeley 2000 Recreation Centers main gym. The meeting will provide a basic overview of the boys and girls games, the program's mission, team structure, cost, registration information, when and where we play. Parents are encouraged to attend.
Contact Rodney Watcher at panhandlepridelacrosse@yahoo.com
---
LACROSSE ARCHIVES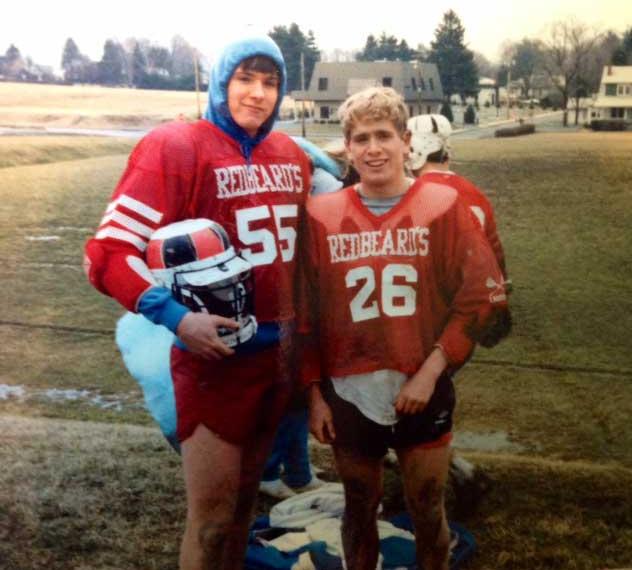 Glenn Klinker & Sam Sutton circa 1987
---
VIRGINIA BEACH - The newly formed Mountain Ridge Elite, a travel team coached by West Virginia Wesleyan's Karli Brentlinger, played in the Halloween Havoc Tournament in Virginia Beach on November 2nd. Girls from Buckhannon-Upshur, George Washington, Martinsburg, and University High Schools participated in the event. Coach Brentlinger was proud of how hard the girls worked and how they improved throughout the day. "We ended up with a winning record", said Brentlinger. "The girls really surprised themselves with how well they played".
Mountain Ridge's next events are a 7v7 in Philadelphia on December 27 and a 12v12 in Charlotte, NC on January 4 & 5. Contact Coach Brentlinger at mrelacrosse@gmail.com for more information.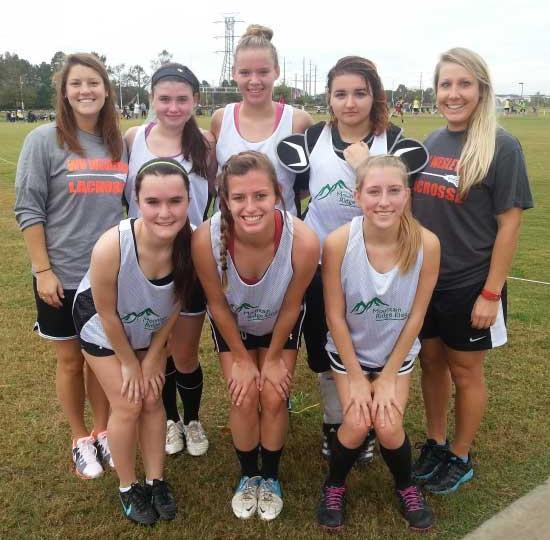 The Mountain Ridge Elite after their first game, a win!
---
Helping our friends to the north!
MOON, PA - November 14 - Moon Area Lacrosse is looking for a coach for their Sophomore boys lacrosse team for the 2014 spring season. If anyone is interested, please contact:
Harry Watts at moonarealacrosse@yahoo.com
---
CHARLESTON - Sam Sutton, Charleston Y's youth lacrosse coach has been working with Jeff Thompson, the West Virginia trainer of officials to set up a referee training session in the Charleston area. The date is now set tentatively set for December 13 & 14.
ANYONE wanting to be an boys/men's official in West Virginia should contact Jeff Thompson at jefft22002@yahoo.com He will forward you information about the Allegheny Lacrosse Officials Association (ALOA) Board and an application. This should be done a couple weeks before the session, since training materials must be ordered.
Officials are currently being paid $75 per varsity game and $60 for a JV game. This is a great opportunity for recent grads to make a couple extra bucks.
December 13 & 14, 2013
BOYS / MEN - ALOA Referee Training
Charleston Area
For BOYS officials at ALL levels, youth, middle school & high school

---
more LAX in WV news SPRING 2013 . . . SUMMER 2013 ... FALL 2013
---
---